Ratha Yatra for kids
Ratha Yatra is a Hindu chariot festival which falls on the 21st of June this year. Will you be taking part in a parade, or marking the occasion in a different way with your little one?
by Steven McKinnon, Mindful Mum, June 20th 2012
What is Ratha Yatra?
Ratha Yatra is a Hindu festival celebrated during the months of June or July. It takes place in the city of Puri, in the Indian state of Orissa.
The festival celebrates the return of Hare Krishna to his birthplace of Vrindavana.
The story of Ratha Yatra
Ratha Yatra has been celebrated for over 2000 years and commemorates the return of Krishna to Vrindavana, where he grew up.
It is said that the residents of Vrindavana all admired and loved Krishna, who was something of a mischief and prankster.
When Krishna grew up and became king, he departed his home, leaving his family and friends behind.
Several years later, his family and friends traveled to see him, but where stunned to see that he was no longer the mischievous cowherd they knew and loved. In an effort to return him to his homeland, the residents of Vrindavana plotted to kidnap Krishna, and take him home on a cart.
How is Ratha Yatra celebrated?
Three lavishly decorated chariots (for the deities of Jagannatha, Subhadra, and Balarama) are drawn through the streets, amidst crowds of people dancing, chanting and singing.
At the end of the procession, a vegetarian feast is served, complete with stalls and entertainment.
Similar parades take place all over the world in celebration of Ratha Yatra, including events in London, Paris, Budapest, Hamburg and Prague.
Celebrating Ratha Yatra with your child
Ratha Yatra parades take place all over the world, so if you're atking part in one this year, please let us know!
If you can't make it, however, why not celebrate with our traditional sweet badam burfi recipe? These do contain almonds though, so beware of any allergies!
Badam burfi recipe
Ingredients:
1 cup of finely ground almonds
3/4 cup of sugar
1/2 cup of whole or semi-skimmed milk
1-2 tablespoons of ghee (or clarified butter)
Method:
Grease a shallow pan with some of the ghee.
Mix the almonds, sugar and milk together in a frying pan and stir over a low heat for five minutes.
Add the rest of the ghee (or clarified butter) and stir until the mixture thickens.
Stir for a few more minutes, then empty the mixture from the frying pan into the greased pan.
Leave to cool for 15-20 minutes, then cut into one-inch squares, and serve. Voila!
Watch a video of a Ratha Yatra parade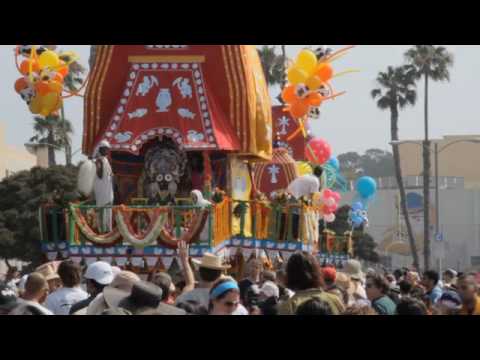 Photography: Pat Ferro @Flickr