St. Patrick's Day for kids
March the 17th marks this year's St. Patrick's Day. Known as a day of festivities and fun, here are the traditions and celebrations of Paddy's Day.
by Steven McKinnon, Mindful Mum, March 13th 2012
What is St. Patrick's Day?
St. Patrick's Day is the feast day for Saint Patrick, the patron saint of Ireland. It takes place annually on the 17th of March, which is widely recognised as the date of his death. Although primarily observed by Irish people, St. Patrick's Day is recognised all over the globe, and is likely the most popular saint's feast day in the world. Perhaps because of this, it has since become a more secular celebration of Ireland, although some still observe it for religious reasons.
Who was St. Patrick?
Many details of Patrick's life are unknown, but we do know that he was a Briton born in a village called Bannavem Taburniae. Though no records of this village exist, it was likely somewhere in Wales or south-west Scotland.
Patrick was not a religious individual, despite being the son of a deacon, until he was captured by Irish pirates at the age of 16, which he saw as punishment for his lack of faith.
After being forced to herd sheep and pigs for 6 years whilst in Ireland, Patrick escaped by stowing away on a ship bound for Britain. Upon his return home, he decided to become a priest, and spent several years studying to this end, eventually becoming a missionary and returning to Ireland to serve as its second Bishop.
It is widely believed that Patrick used a three-leaf clover to illustrate the concept of the Holy Trinity to the pagan inhabitants of the time.
How is St. Patrick's Day celebrated?
Typically, St. Patrick's Day is celebrated with parties and parades, and wearing colourful green attire. People also send St. Patrick's Day greeting cards to one another and eat traditional foods, such as Irish stew.
It has also become popular in some places to bake cakes or biscuits and dye them green with food colouring!
Churches often hold special services and parades to mark St. Patrick's Day as well.
Different countries have different ways of celebrating. Here are a few:
In Argentina, particularly in Buenos Aires, St. Patrick's Day is celebrated with all-night parties, sometimes attracting as many as 50,000 people!
In Montreal, Canada, St. Patrick's Day parades have been an annual tradition since 1824!
In Great Britain, the royal family presents members of the Irish Guard with shamrocks. Many cities also have their own parades, with Birmingham holding the largest.
Japan holds St. Patrick Day events throughout the entire month of March!
How to celebrate St. Patrick's Day with your family
Celebrate St. Patrick's Day with these green chocolate chip cookies! Feel free to let your little one help.
Green chocolate chip cookie recipe
Ingredients:
345 grams of plain flour
1 teaspoon of baking soda
1/2 teaspoon of baking powder
230 grams of butter, softened
330 grams of granulated sugar
2 eggs
1 teaspoon of vanilla extract
5 drops of green food colouring
168 grams of chocolate chips
Method:
Pre-heat your oven to 190ºC, and combine the flour, baking soda and baking powder in a bowl.
Cream the sugar and butter in a large bowl, then add the food colouring, eggs and vanilla extract.
Put the ingredients from the small bowl into the larger bowl, and fold the chocolate chips. Now you have your cookie dough!
Place a tablespoonful of the dough on parchment paper-lined cookie sheets.
Repeat until all of the dough is on the sheets.
Lightly press the dough down, flattening it slightly.
Bake for ten minutes (or until golden), then place on a wire rack to cool.
Your St. Patrick's Day cookies are now ready to serve!
Watch a video of a St. Patrick's Day parade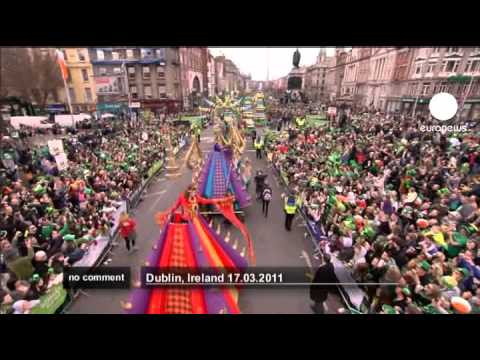 Photography: jpmpinmontreal @Flickr